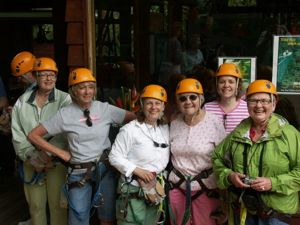 Travel Tours with Cheryl vs. Going On Your Own
I've had the privilege of traveling with Cheryl Luce for over 7 Years!  She has put together many tours, and I have been fortunate to go with her group to far away places such as England, Wales, and Ireland, River tour in Russia, Estonia, River tour in Holland, Germany and Hungary, Italy, Africa, Australia, New Zealand, and Fiji, and Costa Rica.  She has accompanied groups of up to 30 or more, and she has been such a great help with planning, information gatherings with the travel company that is sponsoring the tour, attention to detail, including help with finding a roommate, tips on packing, money exchange, itinerary questions, and organizing follow up gatherings after the trip. Her expertise and her compassion are evident in dealing with her travelers.  Her smile is very reassuring as well as her readiness to help when she is needed. (For instance…in case of an unexpected accident.)  She is a wonderful companion as well as my good friend.
I have also traveled on my own with friends, and I wish to say that traveling on a tour is so much EASIER.  I prefer the tours…one does not have to spend so much time pouring over travel guide books trying to decide what to see and where to go and how to get there!!!  On a tour, you see what is of interest in the cities and places that you visit, as well as having a knowledgeable guide to give commentary.  There are usually historical sites, museums, places of interest included, as well as home meals with locals. Arrangements for airlines and insurance are handled ahead, so there are no worries there.  Most entrance fees are included, as well as wonderful, clean, reliable transportation by deluxe coach.  Hotels are excellent (checked out ahead) and MOST meals are included.  There IS time to spend on your own.  This is always included, so that you might explore at leisure from you well situated hotel.  Traveling on your own involves just as much money in the long run, restaurants are not always the best, hotels are questionable, and all arrangements are difficult to make as well as time consuming.  Now, the luggage dilemma…on a tour, luggage is handled for you…it is taken to your room, so that you do not have to lug it around and worry that it is not getting to where it should be. As we get older, it is harder and harder to haul the bags up and down stairs, get them on trains, buses, etc.  Help is welcomed, but hard to come by.
So…I say, Travel with Cheryl…she is well connected and a seasoned traveler and travel guide.  She is inspiring, and she has so much enthusiasm to share as we go places together and see the world!!!
Happy Traveling!   Sue B.