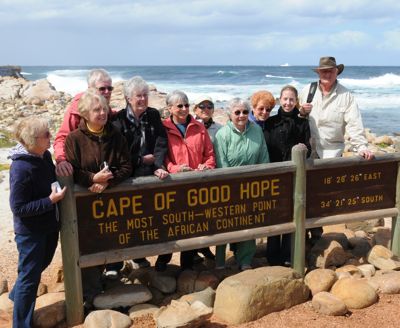 My first time in Africa, a Collette Vacations tour to South Africa in September 2009, was filled with unforgettable, "pinch me" moments.  We had a terrific group of travelers with the First Church Travelers, representing Oregon, Washington, Massachusetts, and Georgia, and one of the best guides we've had anywhere, Gerhardt Nel.
Standing at the Cape of Good Hope in South Africa was one of those moments making you stop to realize you were really there.  As children, could any of us have imagined that we would ever actually stand at the Cape of Good Hope?
I think there are moments in every trip that are worthy of stopping to simply contemplate the magic of being there.  (And would that be worth doing every day, no matter where we are?)  What a gift.
Made richer in sharing with my fellow travelers.
More photos and stories of Africa to come!