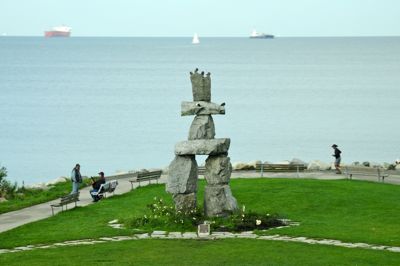 Grouse Mountain in Vancouver, BC is a primary site in the Winter Olympics, providing some beautiful scenes on television.  Our travelers have some fond memories of a visit to Grouse Mountain, as well.
During one of our visits to Vancouver, we had planned a dinner on Grouse Mountain, and it turned out to be magical.  We had several people with us who had not been in Vancouver, let alone in the snow, for a very long time.  So, on a rainy March evening, we boarded the Skyride Gondola to the top of the mountain.  As we watched Vancouver shrinking below us, the rain slowly began to turn to snowflakes.  And more snowflakes!
Arriving at the top, we found a winter wonderland.  Enjoying a lovely meal in a private room, cozy with a fireplace, and  a wall of windows to the outside, we watched the illuminated snow fall outside.  It was one of those magical evenings of comfortable companionship in a group, transported to another place and time.  And unforgettable.