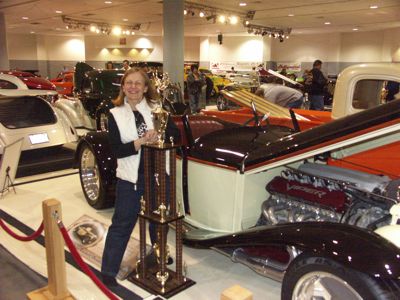 A fun part of life is taking our 1926 Packard Boattail Speedster to car shows.   The car was hand-built by Peter Portugal (www.peterportugal.com) in Eureka, California, and we found  it at the Barrett-Jackson auction in Arizona 3 years ago.  Peter designed the car and built it around a '26 Packard cowl–all steel, with mahogany & bird's eye maple.  The engine may get the most attention, however:  a 10-cylinder Dodge Viper, with 505 hp.  Peter hand-crafted front fenders a year after we purchased it.  A friend suggested the license plate of "VIPARD."
The photo was taken at the Fresno Autorama ("Blackie's Show") in March 2007.  It's an invitation-only show with some amazing vehicles–we were honored to be included.
More pictures and stories to come!